The Pope gets into the wellness biz
by journalist Rina Raphael

Everyone is taking a bigger interest in wellness—and the Pope is no exception.
As I report in today's New York Times, religious institutions increasingly look to support followers' health, emphasizing a holistic approach that goes beyond simply avoiding sickness. Just last month, the Vatican assembled a COVID-19 health and wellness task force—tapping partners such as The Global Wellness Institute—to address issues such as physical movement, community design, workplace wellness, nutrition, and mental health.
"The Pope is very worried about this crisis," a representative said on behalf of Fr. Zampini-Davies, who is spearheading the task force. "He thinks this can be an opportunity to try to make the system better, to not just go back to 'normal' as we might want to do."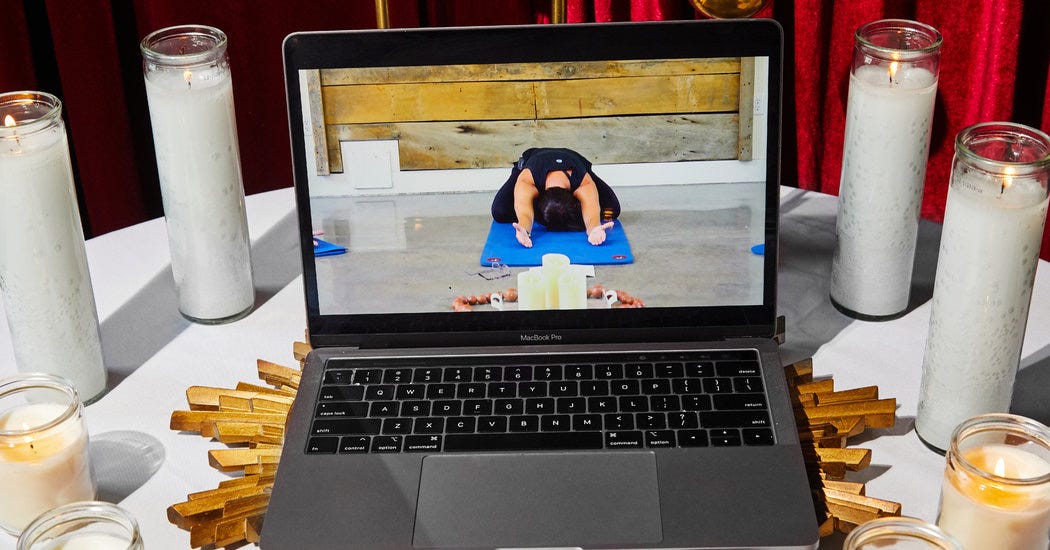 Since Covid-19 was declared a pandemic, religion and spirituality have taken on new significance. According to Spate, religious terms like "pray" and "bible" have seen a 37% Google uptick, outpacing categories like meditation and therapy. And a Pew survey found that nearly one-quarter of U.S. adults say their faith has become "stronger" because of COVID-19.
In fact, 60% of American believers think the pandemic is some kind of message from God (to, well, change). 
It's no wonder religious social network Pray.com just raised a $14 million round. Meanwhile, Christian mindfulness apps report record spikes in usage.
As I previously reported, the union of faith and wellbeing started long before the pandemic. In the last few years, a cottage industry full of religious apps, consultants, and fitness trainers addressed communities in innovative ways. SoulCore, for example, is a Catholic workout platform that pairs strength exercises with the prayers of the rosary.
But with institutions forced to shut their doors while simultaneously addressing communal health needs, we'll see far more wellness initiatives in the weeks to come. All this, of course, harkens back to what many leaders stress: that traditional faith needs an overhaul—to that of a more comprehensive and experiential format, especially to appeal to younger audiences.
Spiritual experience has a better shot, said Rabbi Lavey Derby, director of Jewish life at Peninsula JCC in Foster City, Calif., whether that's through movement, excursions, or practices like meditation. The Jewish environmental nonprofit Hazon, for example, has found success in hikes and community gardening collectives.
When the pandemic forced Hazon to cancel a wellness retreat in March, organizers quickly set up daily Zoom sessions for meditation and prayer, and encouraged members to grow their own "healing" herb gardens. It even started coordinating efforts with synagogues to encourage a more plant-based diet.
That's because Hazon conducted its own research study which found that millennials and Gen Z seek faith as it relates to other areas of interest, namely the environment, social issues, and personal wellness. They want it meaningfully integrated.
"We're talking about resilience and immunity both on the individual level and also on the societal level," said Adam Sher, Hazon's general manager. "Religion isn't separate from these concerns."
A more integrated take on wellbeing , it seems, is entirely what the Vatican is pursuing. The task force is working with scientists and researchers to come up with tangible solutions spanning a wide range of concerns. They will then share these findings with religious leaders worldwide through interfaith efforts.
Expanding on the Vatican's philosophy, the representative added, "we are not the saviors of the world." Rather, the Pope believes in using his moral authority to combat global problems with concrete and effective solutions, not just theoretical principles. "We think that religion can give a transcendental view of what is going on," the representative said.
Read the full New York Times story: Where Group Prayer Meets Group Fitness
And for more on this topic, check out my Global Wellness Summit report: Organized Religion Jumps Into Wellness
In other news: Last month I worked with Calm for an audio series titled Calm Together Conversations, where folks like Ban.do. founder Jen Gotch and astronaut Terry Virts discussed topics like anxiety and isolation. Here's one chat I had with Bon Appétit Test Kitchen chef Claire Saffitz about why everyone is baking so much these days. 
News & Trends:
Instagram launches wellness guides: The new function allows users to discover content like meditation, self-care tips, and relaxing stretching exercises. (Hypebeast)
Hard seltzer but, like, healthy: Molson Coors bets big on Vizzy, a fruit-flavored hard seltzer "packed with antioxidants." (Beverage Daily)
Bracing for the "deaths of despair" crisis: A new report shows the pandemic might lead to 75,000 additional deaths from drug / alcohol misuse and suicide. (Well Being Trust)
Meanwhile, the latest Apple Watch might include mental health monitoring: Rumor has it the accessory will try to predict panic attacks. (Digital Trends)
24 Hour Fitness gives a glimpse of reopened gyms: Expect contactless check-in and rigorous cleanings: After each 60-minute class, the gyms will close for a half-hour for a thorough wipe-down. (Fox 5)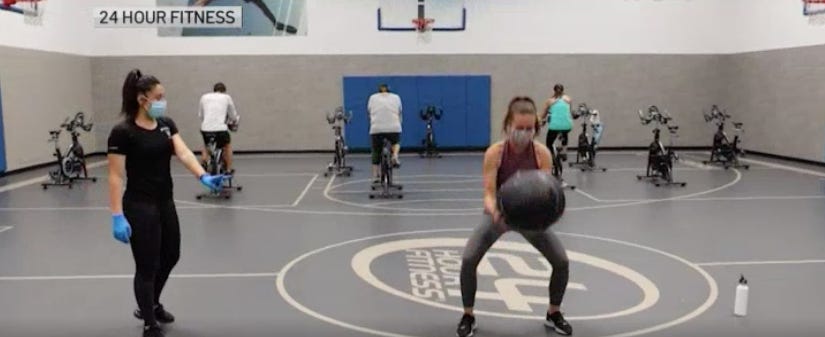 ThighMasters make a comeback: Our comfort-fueled nostalgia extends into home fitness. Let's bring back the Soloflex! (Businessweek)
Will Fitbit turn fitness trackers into pandemic trackers? The brand is considering features that detect COVID-19 symptoms and even help with social distancing. (Forbes)
Kristen Bells gets her own CBD skincare line: The actress is teaming up with luxury CBD brand Lord Jones. (Happy Dance)
Weed-based Viagra for women? Manna Molecular Science, which counts Viagra pioneer Dr. Harin Padma-Nathan on its team, claims it developed a cannabis-based sexual enhancement product. (Forbes via The Week in Weed)
TikTok, the app of skincare truthers? Dermatologists are flocking to the app to debunk fake beauty news. (Marie Claire)
Danone aggressively targets the plant-based market: The yogurt brand plans to double its dairy-free sales by 2025. New categories include coffee, baby food, and "healthy aging" products for the elderly. (Retail Detail)
New AI fitness coach app corrects posture, lazy planks: Exer offers real-time audio and visual feedback via a smartphone camera—no human input required. (Venture Beat)
Medical-grade skincare is now easier to buy online—and experts are worried: Cut off from aestheticians and dermatologists, more consumers are buying and self-administering highly concentrated products like chemical peels. (New Beauty)
The hottest new industry? Social distancing consultants: There's high demand for "specialty design" to ensure folks stay six feet apart. (One Zero)
"Quarantine brain" is real: Sleepless nights, weepy kids, and a complete loss of order at home sounds a lot like what new parents go through. (Washington Post)
Is a reckoning coming for the natural foods industry? Over $1.45 billion was invested into natural food & beverage startups in 2018, a ten-fold increase from 2010. But a former Whole Foods exec says the industry is not just failing to live up to its promise (better products for personal health) but has in fact "lost its way." (Food+Tech Connect)
Not everyone hates being stuck at home: "Some are thriving" and enjoy the "welcome change of pace," reports the LA Times. Cool, do they wanna come over and handle this 15 lb. sack of dried chickpeas? (LA Times)
Innovation in COVID-19 protection:
Deeper dives (luxury edition):
Why people buy luxurious things in the middle of a financial crisis
Why did I feel the need to buy a fancy, resort-appropriate hat when I now only frequent the pantry? It's totally irrational, and yet … optimistic? Turns out I'm not alone in buying pricey things when shit hits the fan. It's called "shoptimism" and it refers to the emotional satisfaction that comes with purchasing power. And while consumer spending in categories like jewelry, fashion, and leisure plummeted the first week of April, it saw an uptick the weeks thereafter. (MRKR)
Luxury brands, get ready: Wellbeing will emerge as a huge trend
We already knew wellness was, as Vogue noted in 2015, "the new luxury status symbol," but COVID-19 might very well accelerate it to new echelons. Although plenty of upscale labels dabbled in wellness categories like athleisurewear, some experts predict they may soon completely overhaul their branding and messaging. "Luxury brands and the conspicuous consumption that sustains them are coming up on the short end of the stick," writes Pamela N. Danziger. "With affluent's physical health and safety threatened, time spent in isolation has forced a reset to consumers' priorities." (Forbes)
The glam bathroom is over—welcome to the wellness sanctuary
Is the bathroom the only place you can escape your spouse or kids? Perhaps it's timely that the bathroom is being morphed into a "sanctuary of calm and wellness," versus what it once was—a place to brush teeth and apply makeup in better lighting. (Business of Home)
Tweet of the week:
If you aren't already, start following Room Rater, which judges Zoom call interiors.
Lastly: As I start research for my book, I'm thinking about what to do with this newsletter (which takes precious time and resources to write). I might consider a different model or frequency rate, but in the meantime, if you appreciate this thang, do share!